KYOTO SUMMER/SPRING PROGRAM
NEWS
2022.08.12
Kyoto Summer Program2022 ended successfully.
Thank you very much for your participation!


2022年度の京都サマープログラムが無事終了いたしました。
ご参加ありがとうございました。

ABOUT
Overview
Kyoto Summer/Spring Program is a short-term study abroad program provided by Kyoto University Institute for Liberal Arts and Sciences (ILAS) and Kyoto University Asian Studies Unit (KUASU).
The program consists of two sub-programs: in the ILAS program, English is the main instruction language, and in the KUASU program, Japanese is the main instruction language.
Both sub-programs share a core curriculum that primarily aims to develop an understanding of the political, cultural, historical, social, and ecological issues facing Japan. Both provide opportunities to learn the Japanese language and to study with local students. The whole program is also designed to highlight Kyoto University's unique academic culture and cutting-edge research facilities.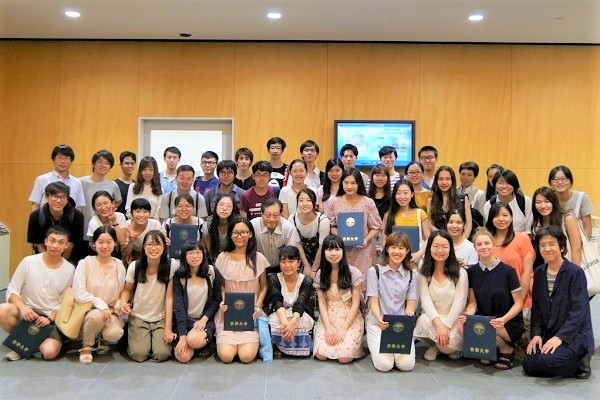 ILAS program (English program)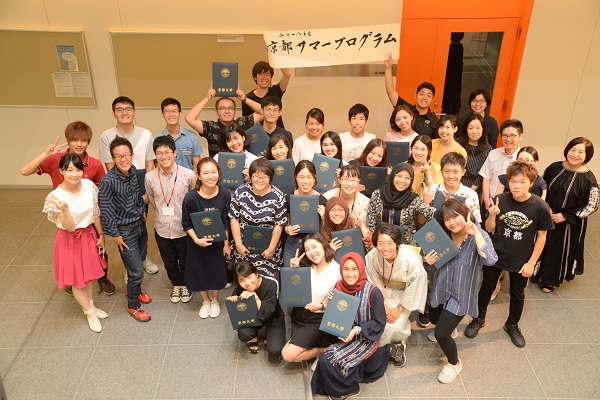 KUASU program (Japanese program)
Program Period
The program is traditionally held in early August. Please check the NEWS section of this website for updated information about the program period for each year.
Eligible Applicants
The applicants of the following partner universities will be accepted through a screening process conducted by the department in charge of the student's home university followed by the final approval made by Kyoto University.
ILAS program (English program)
East Asia
Peking University
Chinese University of Hong Kong
National Taiwan University
Yonsei University
Europe
Heidelberg University
University of Vienna
University of Zurich
University of Hamburg
Bordeaux University
Georg August University of Göttingen
Karlsruhe Institute of Technology
North America
University of California, San Diego
University of California, Los Angeles
University of Pennsylvania
University of Florida
Universities nominated through Kyoto Consortium for Japanese Studies/ Stanford Japan Center
Africa
Partner universities nominated through The Kyoto University Africa Office
Other regions
Mahidol University (Thailand)
KUASU program (Japanese program)
Southeast Asia
Chulalongkorn University
Vietnam National University, Hanoi
National University of Singapore
University of Indonesia
North America
University of California, San Diego
University of California, Los Angeles
George Washington University
COURSE
Course Outline
The program consists of four major parts (listed below), and concludes with final presentations by the participants.
---
1. Academic Lectures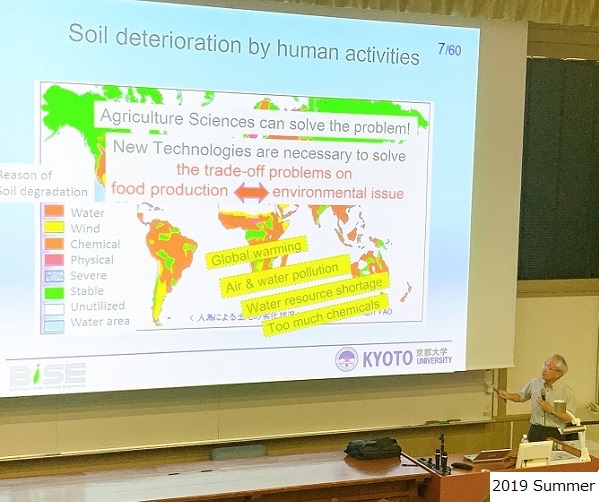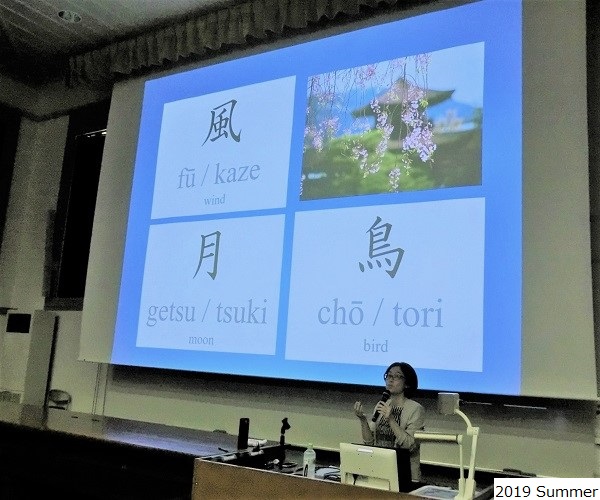 (1) A wide range of lectures delivered in English are open to both ILAS and KUASU program participants.
Example English lectures from previous programs:
Gender in Asia (OCHIAI Emiko, Professor, Graduate School of Letters, Kyoto Univ. Director of Kyoto University Asian Studies Unit)
Japan's energy-environment conundrum (Michael HUGH , Director, Stanford Program in Kyoto Bing Overseas Studies Stanford Univ.)
Diplomatic ceremonial in the last decade of the Tokugawa Shogunate: Japan's first step into modern diplomacy before the Meiji Restoration (SANO Mayuko, Professor, Graduate School of Education, Kyoto Univ.)
High Economic Growth and Minamata Disease: The Fight for Certificates Officially Acknowledging Victims of Methylmercury Poisoning (IIDA Reiko, Program-Specific Assistant Professor, Graduate School of Asian and African Area Studies, Kyoto Univ.)
(2) Some lectures delivered in Japanese that are designed mainly for KUASU students are open to all participants with a Japanese language proficiency of intermediate and above.
Example Japanese lectures from previous programs:
「学校教育にみる日本文化の諸相」 国際高等教育院 教授 河合淳子
Cultural Aspects of Education in Japan (KAWAI Junko, Professor, Institute for Liberal Arts and Sciences, Kyoto Univ.)
「日本語の社会言語学的諸相」 国際高等教育院 准教授 家本太郎
Socio-linguistic aspects of Japanese (IEMOTO Taro, Associate Professor, Institute for Liberal Arts and Sciences, Kyoto Univ.)
---
2. Fieldtrip and Cultural Experiences
Fieldtrips and cultural experiences are designed to deepen understanding of Japanese and Kyoto culture, industry, and ecology.

Example fieldtrips and cultural experiences of previous programs:
(1) Company visits
In previous years we have visited NABEL Co., Ltd and Panasonic and Otsuka Ohmi Ceramics Co., Ltd.

NABEL Co. Ltd., is a leading local SME (small medium size enterprises) based in Kyoto City and a top maker of an egg grading and packing system. Most of the eggs sold in Japan are packed by NABEL's high-tech system, which is exported to 64 countries around the world.
https://www.nabel.co.jp/en/

Panasonic Corporation is a worldwide leader in the development of diverse electronics technologies and solutions for customers in the consumer electronics, housing, automotive, enterprise solutions and device industries. https://www.panasonic.com/global/home.html

Otsuka Ohmi Ceramics Co., Ltd. is the first ceramic company in the world to successfully develop a thin, non-warping large scale ceramic panels called "toban". This technique is used for making reproduction of Art Masterpieces to preserve the memory eternally. Also they create original creations, reproduction of cultural assets, outdoor signage and exterior wall design to use ceramics optimally in delineated spaces.
http://www.ohmi.co.jp/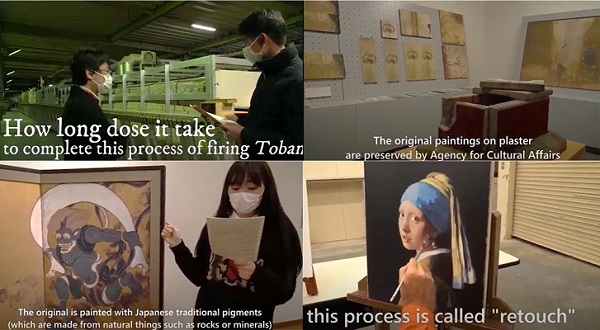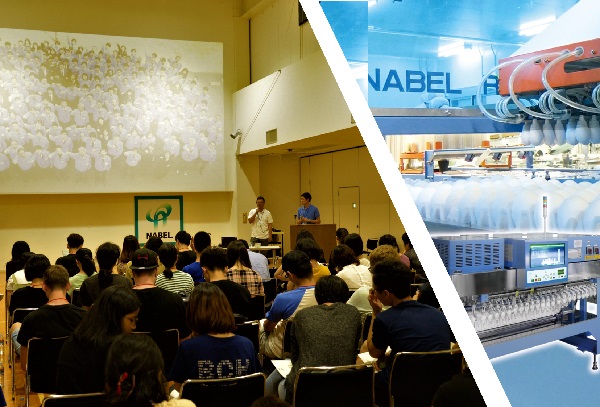 (2) Lake Biwa excursion, in cooperation with the University of Shiga Prefecture
Biwa is the largest lake in Japan and is located just one hour from Kyoto. The excursion is a unique opportunity to learn about various environmental issues not only of the local area, but also around the world. A lecture about the history of the lake and environmental issues is also provided.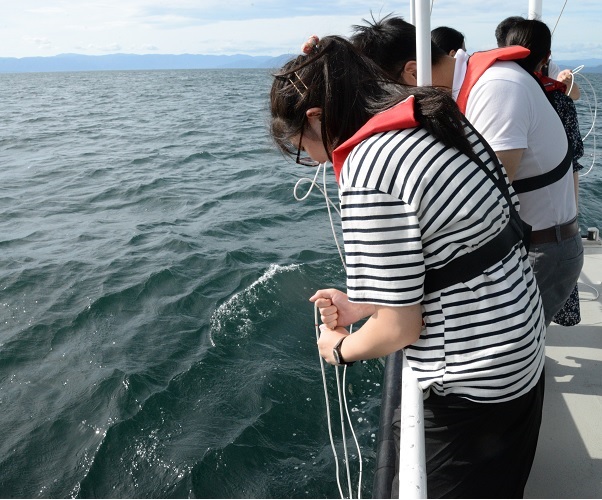 (3) Visiting rural Kyoto
Visiting a thatched village house in Miyama, Kyoto to learn about rural culture and traditions while enjoying the natural beauty of the seasons.
(4) Cultural Experiece
Japanese calligraphy 書道
Participants learn about the history of characters and the art of calligraphy, and they produce their own piece of calligraphy work.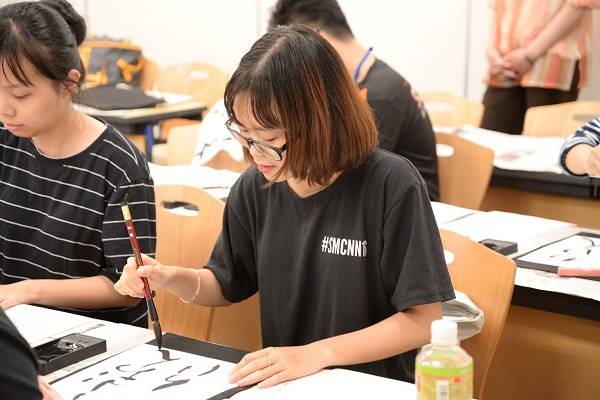 Folding Paper Cranes 折り紙 折り鶴作り
Participants learn about paper cranes and fold them virtually hoping COVID-19 pandemic will end soon.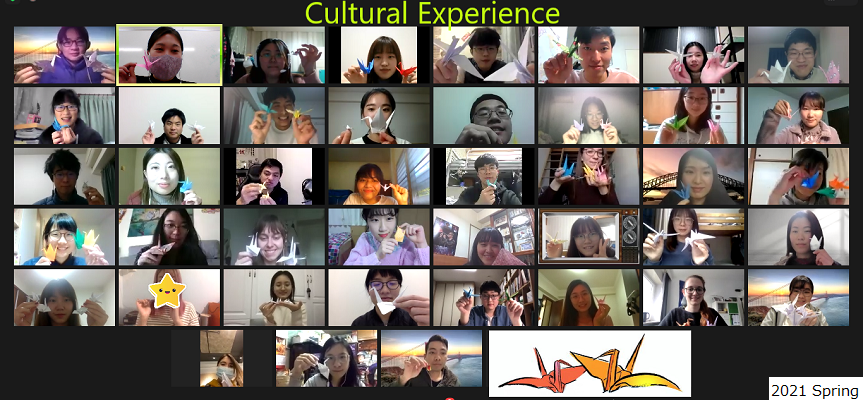 ---
3. Interaction with KU Students
Intercultural exchange with KU students through joint participation in lectures, tutoring sessions of Japanese language, and off-campus activities are provided.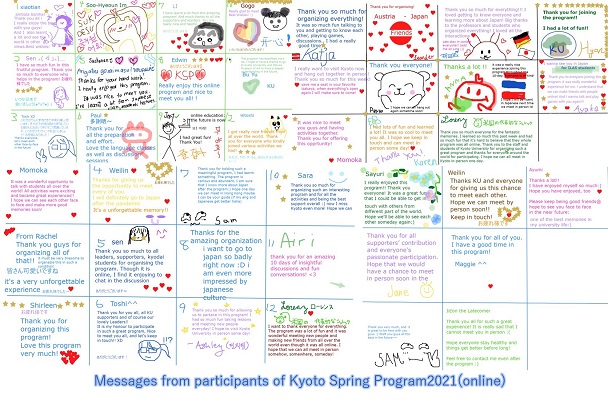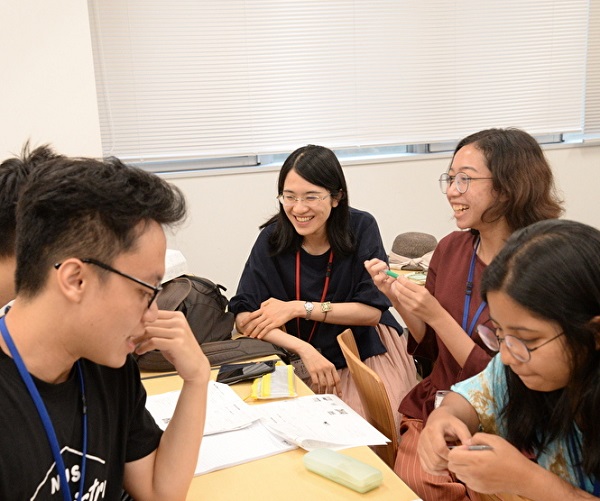 ---
4. Japanese Classes
Five levels of Japanese language classes (Elementary I, Elementary II, Intermediate I, Intermediate II, and Advanced) are provided.
These classes aim to improve Japanese language skills. At the same time, students will enjoy learning the language through activities unique to Kyoto and Kyoto University, including practicing Japanese conversation with KU students, reading about Kyoto, solving KU entrance examination questions, and discussing topics related to Kyoto, such as the protection of cultural assets.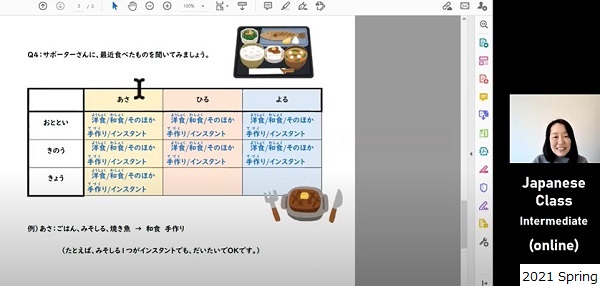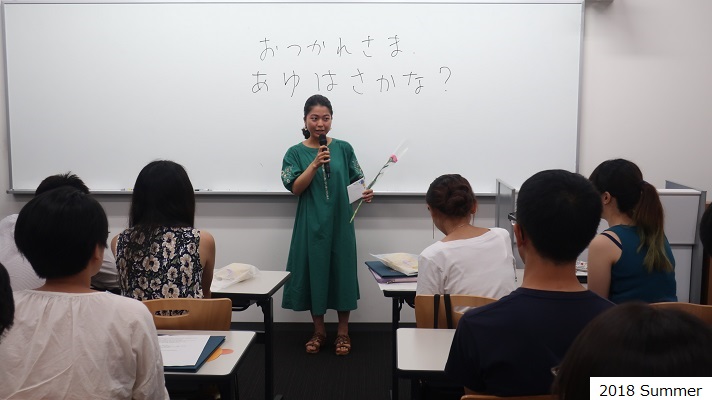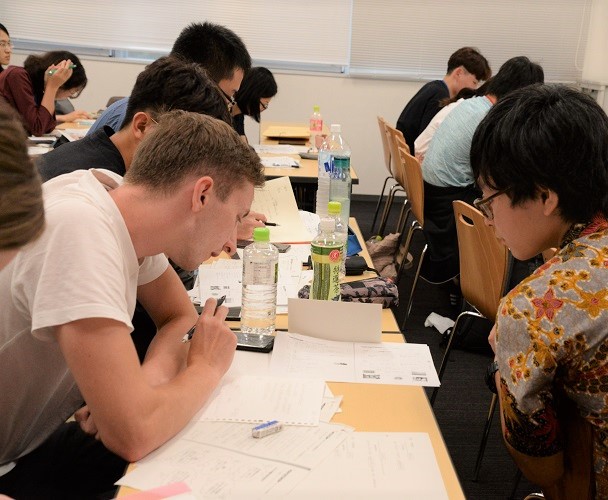 ---
Program Schedule
1.The program schedule of upcoming program (tentative)
This year's program will be provided in two shifts (A & B ) for the convenience of participants from different time zones.
For more details, please click here.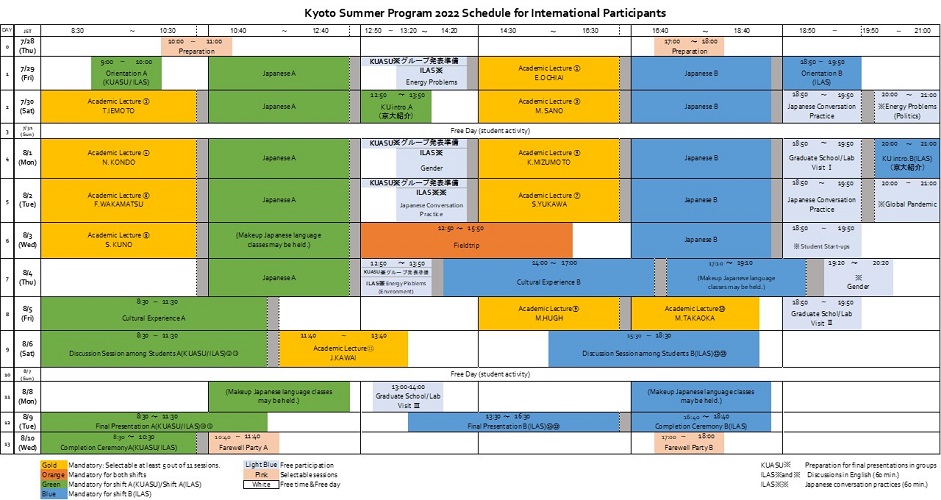 2. List of Academic Lectures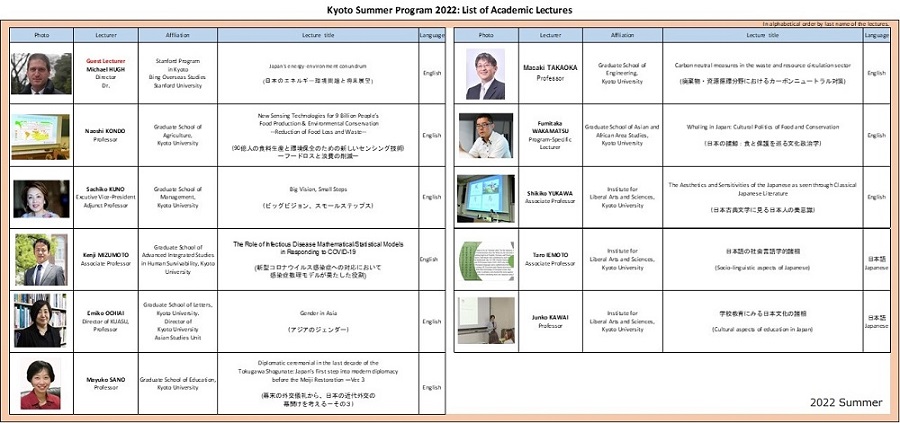 FEES & ACCOMMODATION
All participants
Tuition fees are waived for all participants.
For those who participate in the face-to-face program in Kyoto
NOT AVAILABLE FOR THE "SUMMER PROGRAM 2022".
A scholarship (approximately 70,000 yen) will be provided to cover program fees including accommodation. Kyoto University will provide accommodation. Details will be announced.
All other necessities are covered at the participant's own expense. (including transportation, food, insurance, medical certificate, etc.)
INDIVIDUAL APPLICATION
IMPORTANT
FOR INDIVIDUAL APPLICANTS ONLY. STUDENTS FROM UNIVERSITIES WITH SPECIAL QUOTA ALLOCATED FROM KYOTO UNIVERSITY (LISTED ABOVE) CANNOT APPLY THROUGH INDIVIDUAL APPLICATION. PLEASE APPLY THROUGH THE DEPARTMENT IN CHARGE AT YOUR UNIVERSITY
About
Starting this year (2022) , we will begin accepting INDIVIDUAL applications for the "2022 Kyoto Summer Program" on a trial basis. A maximum of 10 students (ILAS and KUASU in total) from partner universities worldwide will be accepted for this year's program. We are seeking students from a wide range of majors and therefore accept applications from students from any department.
Eligible Applicants
Applicants must be students from (a). universities that hold academic cooperation partnerships* or student exchange agreement** with Kyoto University ; AND (b). universities that have NOT been allocated a special quota for this year's program by Kyoto University.

*List of universities: https://www.oc.kyoto-u.ac.jp/agreement/en/mou/
*List of universities: https://www.kyoto-u.ac.jp/en/education-campus/education-and-admissions/non-degree-programs/exchange-students/list-of-univ
Please refer to the "Call for Application" for further details.

Call for Application ILAS program: Click here
Call for Application KUASU program: Click here
Fees
JPY 42,000
Application Process
1. Prior Confirmation
Students who wish to participate the program should make prior confirmation to check their eligibility. Please submit neccessary information via the following form. Deadline for prior confirmation is JST 12:00pm (noon), June 8, 2022.
https://forms.gle/tJB6JBrrnGytP8Pa9
The Program office will check the student's eligibility and contact the student with further instructions, including the URL for the application system.
2. Application
All application will be done through an online application system. The URL will be disclosed to the students directly from the Program office. Once students have received the URL, please read through the "Call for Application" carefully, and make the application according to the instructions. Deadline for application is JST 12:00pm (noon), June 13, 2022.
3. Selection
If necessary, selection will be made by the Program office. Students will be notified of the selection results by June 16. Final notification of acceptance into the program will be sent after confirmation of the payment of the participation fee.
VOICES FROM PARTICIPANTS
ILAS Program
I think Kyoto University truly put much effort in planning and organizing the academic and student activities. They managed to keep a well-balanced ratio of lectures and other meetings, even putting up two different shifts, so that students from every time zone can join. Even though we could not come to Kyoto in person, I felt welcomed and sometimes almost forgot I am not sitting in a Japanese classroom but in my Viennese flat.

(2021 Participant from University of Vienna)
I particularly enjoyed the cultural experience. I think the origami activity is very meaningful. As crane origami is a symbol of blessing, good hope, for sure it is great to fold crane in this situation. To show our praying that the COVID-19 could end soon, so that we could get back to a normal and happy life. We folded the crane together in the break out room, and finally shared how many cranes did we fold. A communication and interaction as such is really warm.

(2021 Participant from The Chinese University of Hong Kong)
The program was a wonderful experience to understand Japanese culture and society better, get in touch with Asian students and to explore the city, as well as Kyoto University. Particularly the Japanese classes and the contacts with other like-minded students, might likely impact on my professional and academic future.

(2018 Participant from Heidelberg University)
In the program, I could learn something new and have enough time to digest and process, but I also had time to explore Kyoto and had fun with classmates. During the lectures, I got the chance to learn topics in various fields. Those lectures truly broadened my horizon and made me aware of the important issues in Japan and worldwide.

(2019 Participant from National Taiwan University)
I made lots of friends through the program. We would give unconditional supports to each other when overcoming challenges. Every moment, day and night we spent together were gorgeous and unforgettable.

(2019 Participant from The Chinese University of Hong Kong)
KUASU Program
私の大学では、ネイティブ話者から直接日本語を学び、練習する機会がありません。 このプログラムに参加できて本当に幸運であり、感謝しています。 このプログラムでは、より高いレベルで日本語を学ぶことができますが、 日本語しか使わないのでちょっと大変です。 先生の教えをすべて理解するのは大変でしたが、日本語力を伸ばすのにとても役立ちました。
In my home university, there are not enough opportunities to learn and practice Japanese directly from native speakers. I am very fortunate and grateful to be a part of this program. This program allows me to learn Japanese at a higher level, and it surely is challenging for me to use Japanese all the time. It was difficult to understand everything the teacher taught in Japanese, but it was very helpful for me to improve my Japanese.

(2021 Participant from University of Indonesia)
最初は、オンライン形式で本当に留学プログラムができるか 疑問に思っていました。 しかし、初日からどのイベントに参加しても、京大のリーダーやスタッフさんは とても丁寧に企画してくれていました。 大塚オーミ陶業へのフィールドトリップの発表は詳しかったのに分かりやすくて、 クイズやビデオもとても面白かったです。 このプログラムに参加し、京都への興味がさらに強くなりました。
Before participating this program, I wondered if it was really possible to run a study abroad program online. However, from the very first day, no matter which event I attended, the leaders and staff at Kyoto University organized it very well. The explanation on the field trip to Otsuka Ohmi Ceramics was detailed yet easy to understand, and the quiz and video were very interesting. Participating in this program has further strengthened my interest in Kyoto.

(2021 Participant from University of California, San Diego)
私は日本語中級Ⅰのクラスを受けました。先生は大変優しくて面白かったです。 先生は日本語の文法を面白く、分かりやすく教えてくれました。 日本語の授業では、私も京都大学生たちと会話の練習ができ、分からないことがあれば、 京都大学の学生に手伝ってもらいました。
I attended the intermediate Japanese class. The teacher was very kind and entertaining. She taught us Japanese grammar in a way that was easy to understand and interesting. In the Japanese classes, I was able to practice Japanese conversation with Kyoto University students, and whenever I couldn't understand something, they kindly helped me.

(2018 Participant from University of Indonesia)
このサマープログラムのおかげで、「国境を超えた友情」というものを体験することができました。 留学生は皆、違う国から来て普段は違う言葉で話していますが、このプログラムに参加し、お互いの文化や言葉を交流させることで、友達になりました。 京都大学のサポーターさんたちも私たちにやさしく話しかけてくれ、いろいろなところに連れて行ってくれました。 このプログラムならではの素敵な体験をたくさんできました。
By joining this program, I could experience "friendship beyond borders." The international students come from different countries and usually speak different languages, but we became friends with each other by exchanging each other's culture and languages. The supporters of Kyoto University talked to us kindly and took us to many places. I had a lot of great experiences unique to this program.

(2019 Participant from Chulalongkorn University)
このプログラムでは、日本文化の授業がたくさんありました。書道は面白い授業の一つだと思います。 書道の授業の中で、"感謝"と書きました。京都大学の先生とサポーターへ自分の気持ちを伝えたかったからです。 親切なサポーターには本当に感謝しています。
This program offered many classes about Japanese culture. For me, Japanese calligraphy was one of the interesting classes. In the class, I wrote 感謝 ("Gratitude") because I wanted to deliver my feelings to the professors and the students of Kyoto University. I sincerely thank the kind supporters.

(2018 Participant from the University of Social Sciences and Humanities, Vietnam National University, Hanoi)
CONTACT & RELATED LINKS
Contact
Please contact < kyoto_summer*mail2.adm.kyoto-u.ac.jp >(* → @) for any questions regarding the program.

Program Coordinators
KAWAI Junko, Professor, Institute for Liberal Arts and Sciences, Kyoto University/Unit member, Kyoto University Asian Studies Unit.
HAN Liyou, Associate Professor, Institute for Liberal Arts and Sciences, Kyoto University.
ZHANG Zikang , Program-specific Assistant Professor, Center for the Promotion of Interdisciplinary Education and Research, Kyoto University.