Kyoto University's Liberal Arts Syllabus Information System -KULASIS-
KULASIS is our university-wide academic affairs information system available on the Internet that allows students and faculty to get information "Quickly, Easily, and Clearly".
You can obtain various information regarding classes (cancellations / changes, and reports / other assignments), register courses, and check grades from PC or mobile phones on and off campus.

On or after April 1st, log in the "Common Portal for All Students" website, and new students can visit "KULASIS" website by clicking "Access" button.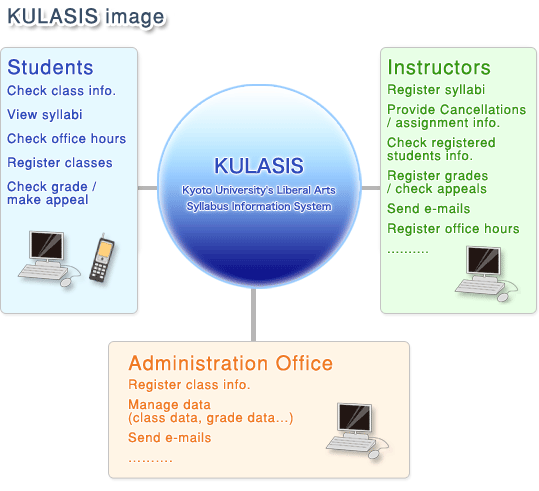 "KULASIS App" for smartphones makes it easier for you to get information on class cancellation and class support by sending a push notification.
Download here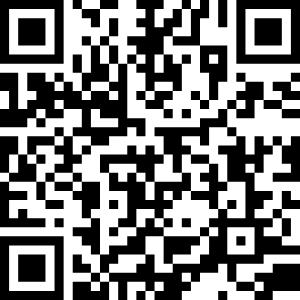 For
iOS devices
To App Store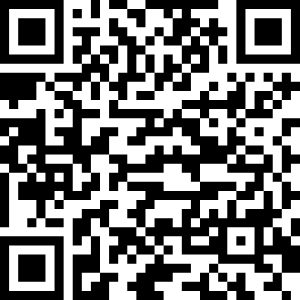 For
Android devices
To Google Play
* Requires iOS 9.0 or later, or Android Ver6.0 or later
List of KULASIS Functions
Information / Class support [Class notification email]

Available on KULASIS App


○

Remark


By email and mobile push notification

Information / Class support [Class material]

Available on KULASIS App


○

Remark


By mobile push notification

Information / Class support [Student call]

Available on KULASIS App


○

Remark


By email and mobile push notification

Information / Class support [Class change information]

Available on KULASIS App


○

Information / Class support [Lecture cancellation information]

Available on KULASIS App


○

Remark


By mobile push notification

Information / Class support [Supplementary lecture information]

Available on KULASIS App


○

Information / Class support [Class notification]

Available on KULASIS App


○

Information / Class support [Assignment information]

Available on KULASIS App


○

Information / Class support [Student affairs and welfare information]

Available on KULASIS App


○

Timetable

Available on KULASIS App


○

Syllabi

Available on KULASIS App


○

Office hours

Available on KULASIS App


-

ILAS Seminar pre-registration (1st semester)

Available on KULASIS App


-

ILAS Seminar-E2 pre-registration (2nd semester)

Available on KULASIS App


-

Pre-registration of foreign languages

Available on KULASIS App


-

Applying for courses where the number of enrollments is limited

Available on KULASIS App


-

Applying for other department's lectures

Available on KULASIS App


-

Class registration

Available on KULASIS App


-

Class registration confirmation

Available on KULASIS App


-

Class withdrawal

Available on KULASIS App


-

Examination timetable

Available on KULASIS App


○

Confirming grade evaluation / Appeal of grade evaluation

Available on KULASIS App


△

Remark


Only grade evaluation confirmation available on the app

Registration Information [Register / Change contact information]

Available on KULASIS App


-

Remark


For international students, "status of residence" content displayed

Registration Information [Confirm class, serial number, selected language]

Available on KULASIS App


-

Registration Information [TOEFL ITP Score]

Available on KULASIS App


-

Registration Information [Confirm the status of Insurance enrollment]

Available on KULASIS App


-

Registration Information [Set forwarding address of Student Mail(KUMOI)]

Available on KULASIS App


-

Registration Information [Register / change email address for contact other than KUMOI]

Available on KULASIS App


-

Registration Information [Change email language for KULASIS]

Available on KULASIS App


-

Remark


For international students
Function
Available on KULASIS App
Remark
Information / Class support
Class notification email
○
By email and mobile push notification
Class material
○
By mobile push notification
Student call
○
By email and mobile push notification
Class change information
○
Lecture cancellation information
○
By mobile push notification
Supplementary lecture information
○
Class notification
○
Assignment information
○
Student affairs and welfare information
○
Timetable
○
Syllabi
○
Office hours
-
ILAS Seminar pre-registration (1st semester)
-
ILAS Seminar-E2 pre-registration (2nd semester)
-
Pre-registration of foreign languages
-
Applying for courses where the number of enrollments is limited
-
Applying for other department's lectures
-
Class registration
-
Class registration confirmation
-
Class withdrawal
-
Examination timetable
○
Confirming grade evaluation / Appeal of grade evaluation
△
Only grade evaluation confirmation available on the app
Registration Information
Register / Change contact information
-
For international students, "status of residence" content displayed
Confirm class, serial number, selected language
-
TOEFL ITP Score
-
Confirm the status of Insurance enrollment
-
Set forwarding address of Student Mail(KUMOI)
-
Register / change email address for contact other than KUMOI
-
Change email language for KULASIS
-
For international students
AY2023 KULASIS User's Guide for Students (English version)